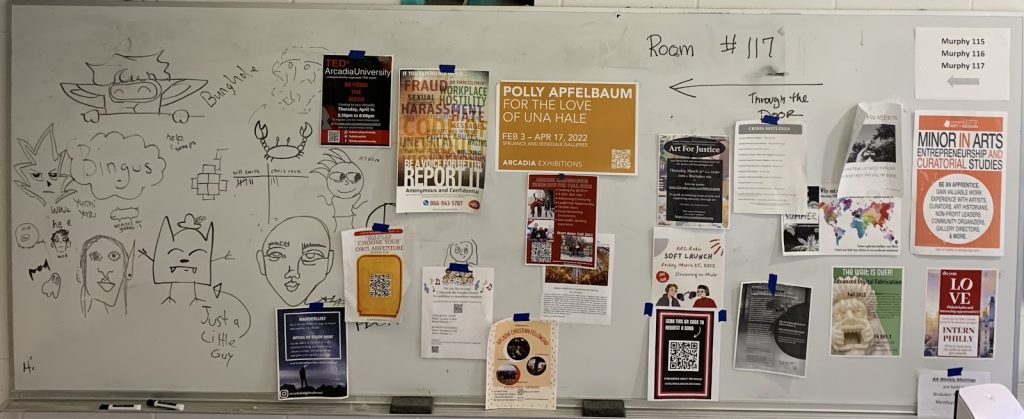 I don't know what it is that's so tempting about an empty space on a public whiteboard, but the huge one tucked away in the weird intersection of Murphy Hall is basically a siren song covered in student event posters. I've been going to Arcadia University for four years now. I've had classes in Murphy Hall for three of them, and every time I passed that whiteboard there was something on it that I could either relate to or giggle at. The minds of undergraduate Arcadia students are bogged down by responsibility, expectation and the lizard brain joys of young adulthood. We're basically cavemen walking around with backpacks, so it's not surprising that we revert back to cave painting when we see a fresh un-smashed Expo marker and empty white space. Over the years I've seen so many little characters and declarations from students like "yeet" or "i <3 murphy!" After the pandemic hit, it slowed down, the doodles were a little less frequent, and most of the ones that were on there had been unchanged for months.
So I decided to give my peers a little nudge. I put two new black markers on the ledge and patiently waited. Almost immediately after class I noticed some new additions had already joined the board. I decided to take pictures to chronicle each of the doodles on the whiteboard.
As a soon-to-be graduate, I'm going to miss the little joys of existing in an academic community. Being surrounded by like-minded students and being able to see proof of tiny, but significant, contributions to campus life is something that I am sad to leave behind. Access to intellectual discussion and information is something we often take for granted. The community of campus life and student interactions teach some of the most important lessons on campus. Our peers are as much teachers as our professors. 
Shout out to the Arcadia seminar I took on imagination that taught me the importance of art imagery and the subconscious so I can analyze these dumb doodles through a lens of nostalgic affection for the minds of my fellow students. Doodles say a lot about how we're coping, and these are pretty ugly and hilarious so it's safe to say that Arcadia students are suffering with grace. As you look through the gallery I've compiled, imagine the student who drew these. How do you think they were feeling? Was it all the same person? And why did they choose to draw such a stupid dumb thing?
---
At some point after the fiasco at the 94th annual Oscar's award ceremony, yes the one where Will Smith slapped Chris Rock, this tally appeared. Here is how the votes stacked up over the past few weeks: