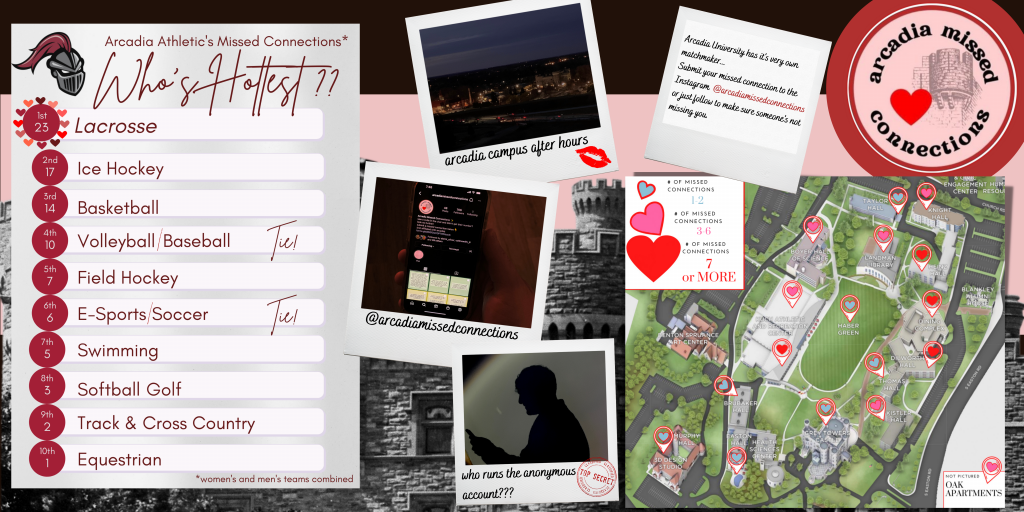 @arcadiamissedconnections
Do you like piña coladas?
Do you like getting caught in the rain?
Do you like reading your fellow students anonymously thirst over each other on a public Instagram page?
In my personal opinion, it's hell yes to all three. Unfortunately @arcadiamissedconnections doesn't hand out pina coladas when it rains, but still it sure does attract a lot of thirsty students.
Read more ↓
---
If you're a college student right now, you know the isolating feeling of being on a campus full of tired eyes and masked smiles. The keen feeling of campus life has been muffled by KN95 and now socializing is somehow more awkward than it was before. Here at Arcadia University about 90% of the students and faculty are fully vaccinated, which means students are back in classrooms and social events are trying their best under the anti-social covid guidelines. Trust me though, no one's going to lie and tell you that it's back to normal. In the wake of awkward six-foot-apart-and-double-masked conversation (don't even get me started on trying to flirt with a mask on), people have clung to online communication and social media for some stress-free connection.
Around 745 followers are clinging Titanic-style to the Arcadia Missed Connections (@arcadiamissedconnections) Instagram account, for their dose of student body interaction. The account summarizes their intentions innocently in their bio "saw a cutie in the chat and didn't get their number? look no further! submit a missed connection below" and denies any affiliation with the university despite the iconic Grey Towers logo in their profile picture (the same one featured in Arcadia's own student-run PR agency ?).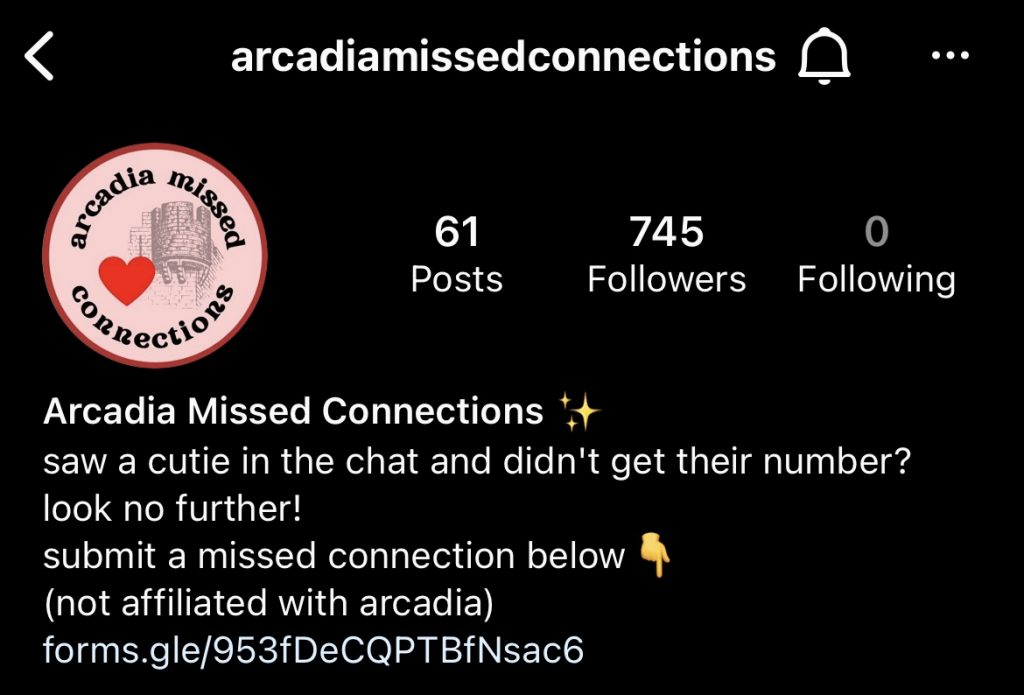 "who is getting to read all of these anonymous submissions, and are they posting all of them?"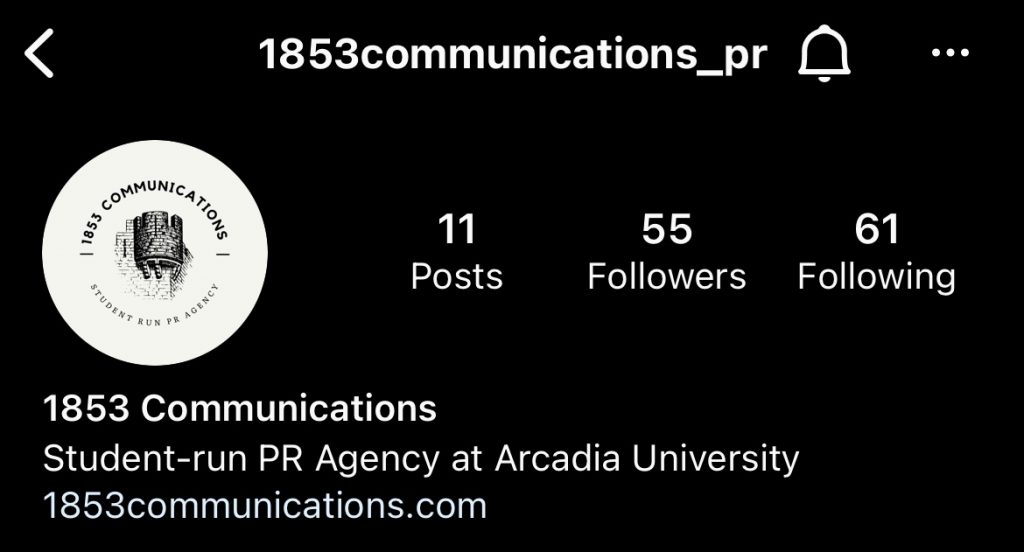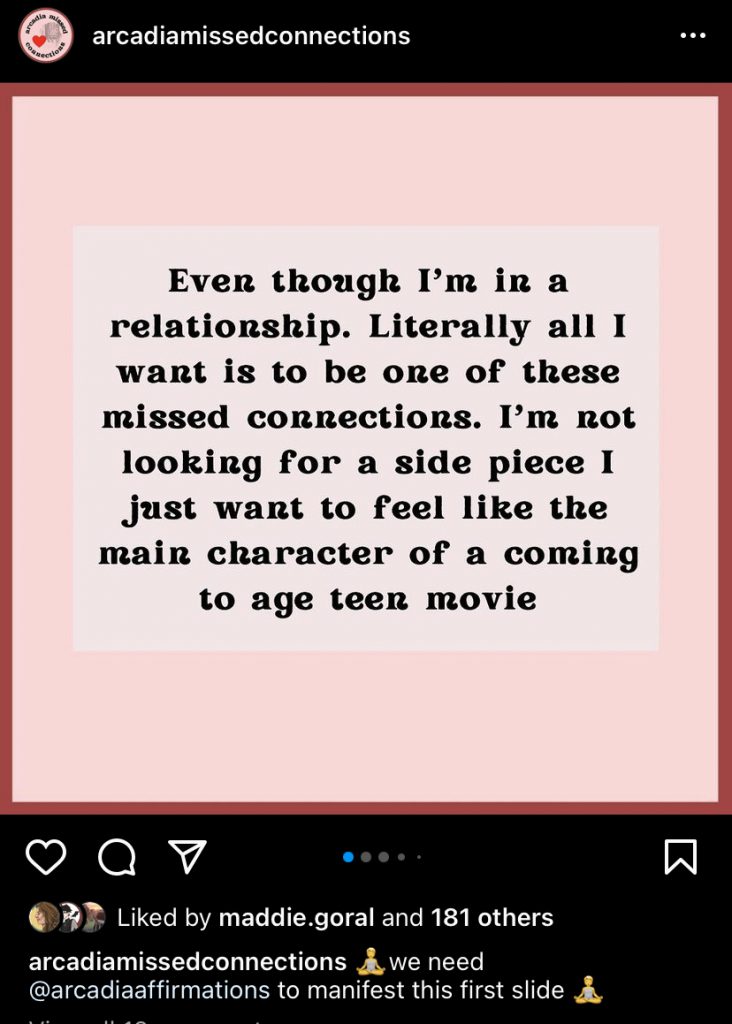 check out the matching castles pfps →
Understandably, this account is run anonymously, and whoever's behind it wants to keep it that way. They don't follow any accounts and were still able to attract over 700 followers since their first post on November 16, 2021. So what? People have been posting personal ads since newspapers and Craigslist has been around since the 1990s. Well, from the perspective of a student, there's something exciting about knowing someone could be so attracted to you without you knowing, that they would profess it online. One student actually echoes this idea in their submission, saying they "just want to feel like the main character of a coming of age teen movie."
Especially now during the pandemic era of existence, it's understandable that students are looking for a way to feel seen, but some of these posts make me think: who is getting to read all of these anonymous submissions, and are they posting all of them?
I've been following @arcadiamissedconnections for a while, so for this story, I was wracking my brain, trying to remember how I found the account. Although, Instagram doesn't share exactly when you started following someone, you can reorganize your following to sort by the latest followed. Luckily for me (not her), in November a follower of mine had her instagram hacked and had to make a new account with a post explaining the situation. I followed her new account right after @arcadiamissedconnections and her first post was dated: November 21st. With a little guesstimation this means I followed @arcadiamissedconnections within the week of their first post. Instagram suggests "New to Instagram" accounts when new profiles turn up within your circle (whatever the hell that means). This could mean two things:
That @arcadiamissedconnections was made under the same email as someone I already follow
OR
2. Enough mutual Arcadia students were already following and Instagram thought I deserved to know.
With both options being very enticing, and yet all of it confusing me , I simply decided to DM @arcadiamissedconnections myself, determined to find out if they are a student (or faculty member…I'm just saying, it would be interesting) and get some information about why they started the account and what kind of suggestions they get.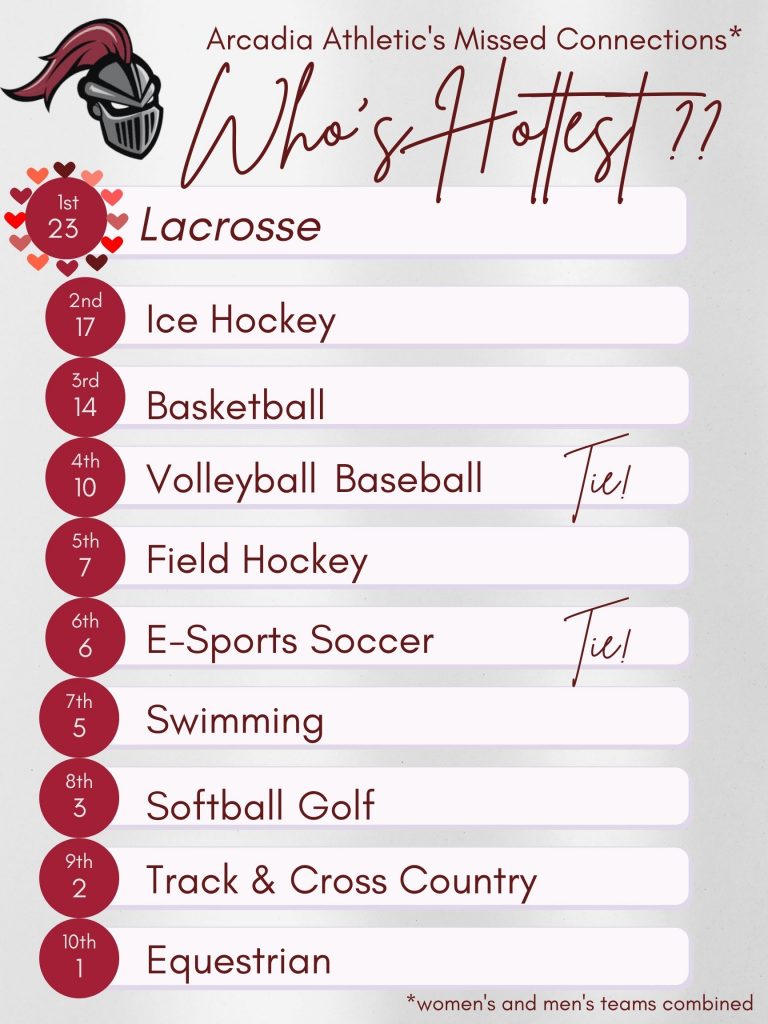 On Valentine's Day morning, @arcadiamissedconnections posted a few new submissions.  The post got over 100 likes in little over 30 mins. Each slide with the same rom-com aura as always with the added asking-of-valentines. One of my favorite things about this account aside from the exciting mystery, is how it goes beyond just people anonymously yearning. The comment section and replies by the students add a narrative layer with their theories about the subjects of the missed connections. Students tag other students they think it might be about, and multiple similar submissions lead to dramatic sagas understood only by consistent readers. The "ra in red" saga created a shared joke among Arcadia campus RA's and led to a small photoshoot of the RA's in their brightest reds circulating shared Instagram stories.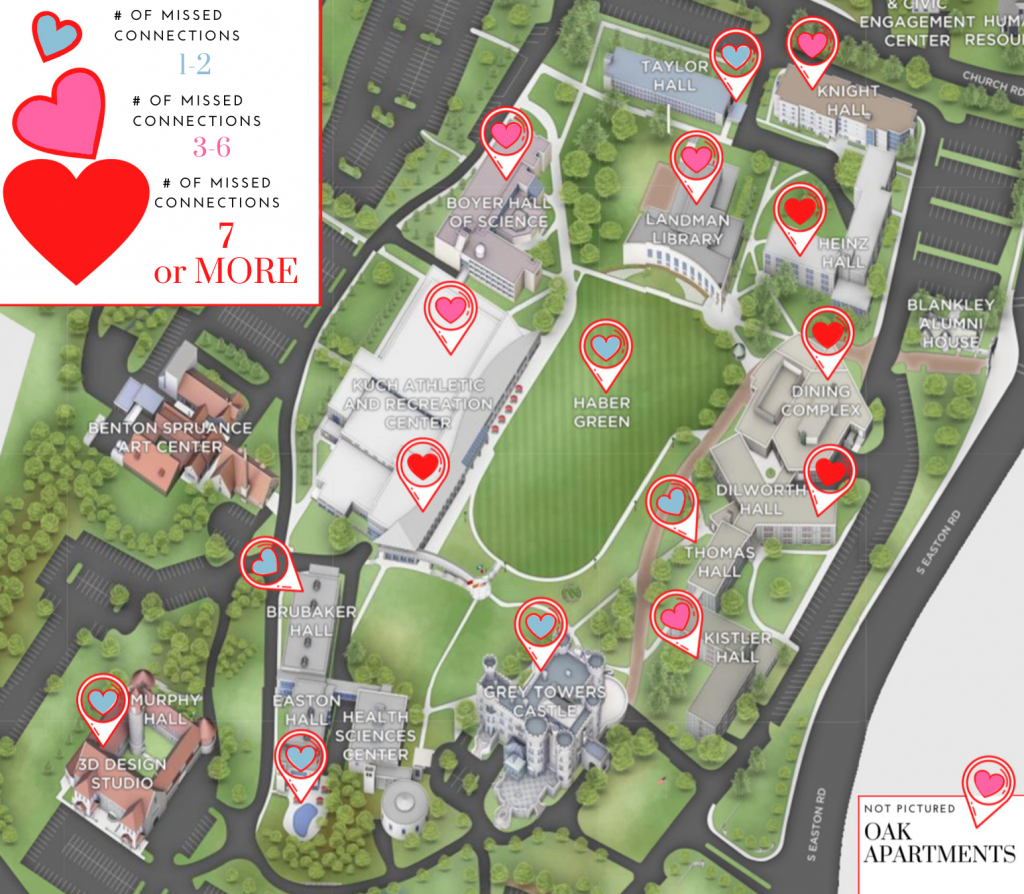 @arcadiamissedconnections has created a small community among students, not just jokes are shared in comment sections, kind affirmations and advice are also given willingly by fellow students who comment a chorus of "just shoot your shot guys!" It's the most I've felt connected to the rest of my school since we were all kicked off campus in May of 2020. Unfortunately, @arcadiamissedconnections came to an end April 29th 2022. So all I can say is
To the instagram account that made my senior year way more entertaining, you'll always be Arcadia's #1 missed connection.